50% OFF Only While Stock Lasts - Almost Sold Out!
"I bought this as a gift and it was a big hit. It's sooo relaxing and peaceful to watch. They really do look real and it looks fantastic at night. I want one for myself now lol."
-Kimberly D. Jensen, JellyGlow™ Customer
Almost sold out - only 3 left!
Checkout securely with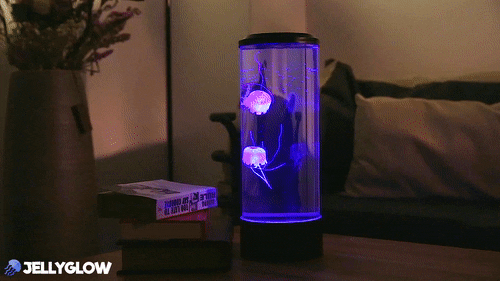 Everyone Who Sees Them, Loves Them!

The JellyGlow™ Lamp Is The
Most Relaxing, Eye Catching, Cute Little Jelly Fish Aquarium

! These Magical Lifelike Jellyfish Don't Require Feeding Or Cleaning. Watch Them Dance & Twist In Their Colorful Glowing Aquarium And Relax.




Relaxing & Mesmerizing Night Light
Beautiful Decoration Piece In Any Room
Create Peaceful & Soothing Atmosphere
Great Gift For Kids, Teens, And Adults
The lamp comes complete with two jellyfish and US plug. Easy to assemble in under 5 minutes, instructions included.
What are people saying about the JellyGlow™ Lamp?
★ ★ ★ ★ ★
"This was by far the most loved gift I got for anyone last Christmas. Everyone who saw this was mesmerized. The jellyfish are very pretty and their movement in the tank is very realistic! It's so great I'm going to purchase another one for myself."
- John Wallace, JellyGlow™ Customer
★ ★ ★ ★ ★
"I cannot emphasize how much this means to my dementia-ridden mother. She just loves it, and I think the motion and color in her room really help her out. It just makes her happy! And everyone comments on it. (Now I'll probably have to get one for my wife too). BUY ONE!"
- Anna Johnson, JellyGlow™ Customer
★ ★ ★ ★ ★
"They are so beautiful & extremely QUIET which is important to me. Before I had a cheaper one from another company and it was loud & noisy but that's not the case here! I luv these so much, I'm buying 2 more for Christmas gifts."
- Alex Smith, JellyGlow™ Customer
★ ★ ★ ★ ★
"This is an awesome little lamp. I bought it for my son, he is always talking about wanting a fish tank. I for one can not be bothered with taking care of live animals. Everyone that comes over and see is it becomes mesmerized by it and love it. I have 2 friends who have already ordered their own. Definitely would buy again and would definitely give as a gift. It is very relaxing to watch as well."
- Jennifer Lee, JellyGlow™ Customer
Frequently Asked Questions
Are these real jellyfish?

Although you would think these jellyfish are real, they are made from plastic and thus never require feeding or cleaning. Simply set up the lamp in minutes and be mesmerized by their lifelike movement and beautiful glowing colors.

The Aquarium Lamp is almost silent and makes for a perfect night light in any bedroom, while lightly filling the room with soothing colors.

How long does it last and is it easily breakable?

The aquarium is made from very sturdy materials that will easily last for multiple years. Even a small drop will not be an issue.

Would this make a good gift for a friend?

YES! This gorgeous lamp is the perfect gift for young and old. It relaxes and soothes and is guaranteed to be a conversation starter.

Does this lamp use batteries?

The lamp runs from a US-compatible power cord.

Simply fill the aquarium lamp with distilled water and add 3 drops of dishwashing liquid. This ensures that the jellyfish float and move just like the real thing. 




Push out any air bubbles with a straw from underneath the jellyfish for the best effect.
60 Days No Questions Asked Guarantee
You have a full 60 days to make sure you're fully satisfied with your purchase.
*If for any reason you're not happy, you can simply contact our Customer Service Department within the 60 days period after purchase and let them know you'd like to return your order.
All orders are processed and shipped out within 24 hours.
We offer Free Tracked Express Shipping 🚚